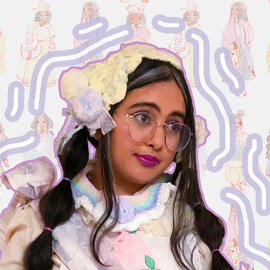 avina-kei
---
Starry-eyed Shapeshifter
About
Avina has been wearing alternative street fashion for over fifteen years, and draws heavy influence from Japanese street style and traditional South Indian motifs. These days, they just say they aspire to be a fashion blob. Avina aspires to direct more editorial shoots, provide style guidance, develop fashion panels and programming for events, and fight evil by moonlight.

In an attempt to heavily decrease their social media usage and remain as independent as possible, Avina has decided to stop using Facebook and Instagram. They are currently most active on Ko-fi and Twitter.
Blog
I finally found a home for my blog, and will be using Ko-fi to publish my personal writing! All posts will be available for public viewing, but if you are so inclined, please consider donating or subscribing monthly. I hope to come up with perks for those who subscribe soon!

During August of 2021, I announced a membership service for digital artwork and additional behind-the-scenes information through Ko-fi! My blog will always be ad-free, and support through Ko-fi will ensure it is easy to stay that way.
Panels
I have been assisting with providing programming to anime conventions and fashion events since 2011. In the past, I have arranged entire mini fashion shows, hosted introductory and advanced panels, deep dove into fashion history, discussed social justice issues in alternative spaces, and even provided comedy content. If you think I would be a good fit for a convention or event you are planning, do not hesitate to reach out.

Panel archive UNDER CONSTRUCTION
Contact
Please reach out to me at [email protected] if you are interested in having me present a panel at your event or would like to reach out for a styling opportunity or collaboration.